These two books are EXTRAORDINARY reads for kids in grades 7-9.
My oldest is an incoming 7th grader and is currently reading Hey, Kiddo by Jarrett Krosoczka. He is absolutely loving it!
My oldest's love for reading didn't come instantaneously. He is my math and science lover. When he was a second grader, I perceived that he always preferred a comic book—Captain Underpants—or facts, but didn't exactly love to pick up books. However, this mama never gives up! I was—and still am—relentless in the pursuit of helping him find books to spark interest in reading.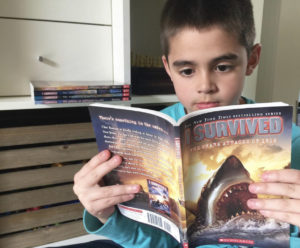 Hey, Kiddo is memoir in a graphic novel form so I knew my oldest would be intrigued by it. It brought tears to my eyes when I read it.
Here is the premise and blurb.
"In kindergarten, Jarrett Krosoczka's teacher asks him to draw his family, with a mommy and a daddy. But Jarrett's family is much more complicated than that. His mom is an addict, in and out of rehab, and in and out of Jarrett's life. His father is a mystery — Jarrett doesn't know where to find him, or even what his name is. Jarrett lives with his grandparents — two very loud, very loving, very opinionated people who had thought they were through with raising children until Jarrett came along.

Jarrett goes through his childhood trying to make his non-normal life as normal as possible, finding a way to express himself through drawing even as so little is being said to him about what's going on. Only as a teenager can Jarrett begin to piece together the truth of his family, reckoning with his mother and tracking down his father.

Hey, Kiddo is a profoundly important memoir about growing up in a family grappling with addiction, and finding the art that helps you survive."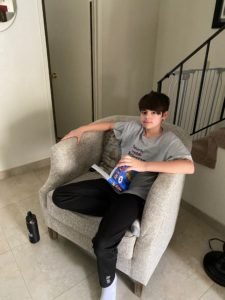 It's important to for our children to be exposed to different life experiences through stories and books—even if the theme seems dark and sad. A child's mind and emotional perspective can shift towards empathy through these type of books—they gain understanding plus compassion for others.
Dead End in Norvelt is a bit of an autobiographical book. Historical fiction filled with mystery and laughs. We loved how witty and unusual it was.
"This winning novel, both humorous and heartwarming, takes place during the summer of 1962, when narrator Jack Gantos turns 12 and spends most of his days grounded. Jack's main 'get out of jail free card,' and one of the novel's most charming characters, is Miss Volker. The blossoming of their friendship coincides with the blooming of Jack's character." ―Shelf Awareness Pro
Miss Volker is one memorable character who is an amateur historian and a champion of social justice. I also love how nurturing she is—a true caretaker. Miss Volker writes obituaries to remember the old folks who nobody else cares for.
You want to know a secret?" I asked. "Sure," she said halfheartedly. "I love to sniff the insides of books," I said in a whisper. "Because each book has its own special perfume.

Jack Gantos, Dead End in Norvelt